Seychelles
Destinations World

Seychelles - Tailor Made
Visit the top attractions of Seychelles
Seychelles has many attractions that you must see and that you should include in your trip if you want to experience the incredibly enchanting atmosphere of the area.
On this page you can book the hotel of your choice, tours, as well as d ay trips.
Anse Lazio
It is one of the most beautiful beaches in the Seychelles. You have to hike on a hill to access the beach. Takamaka trees and coconut palms surround the beach, providing shade for relaxation as well as restaurants at both ends of the beach.
Baie Lazare
The beautiful village of Baie Lazare in Mahé was named after the 18th-century French explorer Lazare Picault, who landed here when the French government sent him to explore the islands. One of the main tourist attractions of the area is the neo-Gothic church Baie Lazare.
The National Park Morne Seychellois
This is the largest national park in the Seychelles, covering more than 20% of the Mahé area. Here the wildlife hosts various remarkable bird species and the rich vegetation varies in different species of endemic palms and ferns.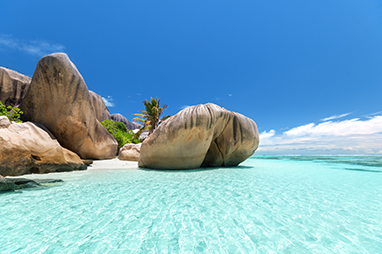 La Digue Island
La Digue is a haven for nature lovers. Here you will get a taste of the traditional island life. Impressive white sand beaches will enchant you. One place worth visiting is the Veuve Nature Reserve.
Book your Hotel in Seychelles
Αctivities in Seychelles
Day tours
Seychelles have many wonderful places around it that will tempt you to make at least one day trip or a cruise to discover them.
Outdoor activities in Seychelles
Are you looking for an outdoor activity in Seychelles? See our alternative suggestions
Airport transport