Tahiti
Destinations World

Tahiti - Tailor Made
Visit the top attractions of Tahiti
Tahiti has many attractions that you must see and that you should include in your trip if you want to experience the incredibly enchanting atmosphere of the area.
On this page you can book the hotel of your choice, tours, as well as d ay trips.
Huahine Natural Aquarium
Huahine Natural Aquarium brings together all the beautiful marine life of the Pacific Ocean, in the shallow waters of the lagoon. Watch from the platform or dive into the water to see more closely. Otherwise, head to the Lagoonarium of the Intercontinental hotel in the middle of the resort.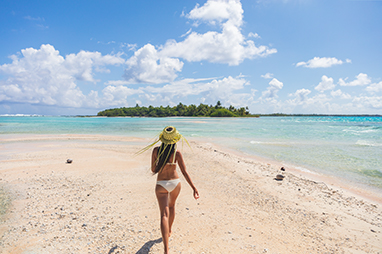 Rangiroa Atoll
Rangiroa Atoll is part of the Tuamotu archipelago of French Polynesia and the second largest coral region in the world, well known for its impressive snorkeling and diving areas. The name itself means "endless sky" in the local language.
Black sand beaches
Once you reach outside the capital, Papeete, on the west and east coasts of Tahiti, there are many beaches, some of which are located next to large resorts. Several of them are covered with black sand.
And other beaches
The public beaches in Moorea are widely accessible and one of the most popular is the unending Opunohu. It is also worth visiting the beaches of Teavora and Temae along the east coast and Hauru Point a three-mile winding beach on the west coast.
Surfing
The two different seasons of Tahiti's surfing allow both inexperienced and experienced surfers to take advantage of the different waves. The beaches of Papara, Papenoo and Taapuna are for beginners to intermediates, while Teahupoo on the southwest coast of Tahiti is only intended for experienced people.
Book your Hotel in Tahiti
Rent a car