Bora Bora
Destinations World

Bora Bora - Tailor Made
Visit the top attractions of Bora Bora
Bora Bora has many attractions that you must see and that you should include in your trip if you want to experience the incredibly enchanting atmosphere of the area.
On this page you can book the hotel of your choice, tours, as well as d ay trips.
Coral Gardens
On a small island just east of the main island you will find a beautiful coral reef. There, with the help of a specialist who will guide you, you can snorkel among the corals, the eels and the sharks of the reefs.
Matira Beach
Matira Beach is the largest public access beach in Bora Bora, making it extremely popular with visitors. The water is crystal clear and the sand is stunning. Matira Beach is also filled with resorts, shops and restaurants, so it's a very good place to spe
Snorkeling
The clear waters and the fascinating wild underwater nature make snorkeling a prerequisite of every visit. After exploring your nearest waters, go a little further to find a greater variety of underwater attractions.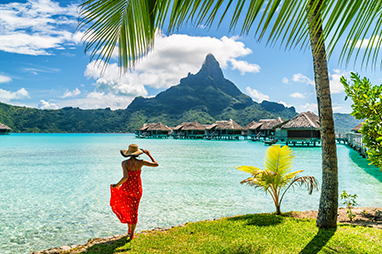 Mount Otemanu
You can see Mount Otemanu from anywhere in Bora Bora. Its black steep slopes are impressive, in contrast to the lush jungle that surrounds it and the blue lagoon below. Mount Otemanu reaches 2,385 feet and is a popular hiking destination.
Book your Hotel in Bora Bora
Αctivities in Bora Bora
Looking for something different you can do in Bora Bora? Book tickets for tourist attractions, museums, tours and much more.
Day tours
Bora Bora has many wonderful places around it that will tempt you to make at least one day trip to discover them.
Rent a car