Miami
Destinations World

Miami - Tailor made
Visit the top attractions of Miami
Miami has many attractions that you must see and that you should include in your trip if you want to experience the incredibly enchanting atmosphere of the area.
On this page you can book the hotel of your choice, tours, as well as d ay trips.
Bayfront Park
The fireworks of July 4th and the countdown on New Year's Eve are just two of the events that take place in this park. From the beach you can watch the dolphins jump and play. Wonderful view shaded by oaks, palm trees and benches.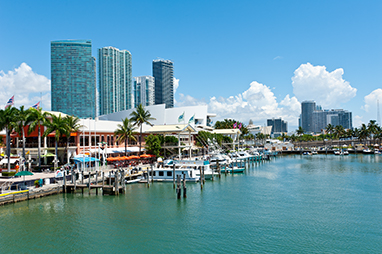 Bayside Marketplace
Located in Biscayne Bay. This two-level open-air festival center has more than 150 shops. Guests can enjoy international cuisine and exotic music. Take a refreshing bay cruise on Star Island celebrity tours.
Freedom Tower
As a beacon of hope and freedom, the Freedom Tower remains a national symbol of the freedom sought and found by Cuban refugees who came to the United States.
Miami Beach
When you think of Miami, the first image that comes to mind is this beautiful beach. Essentially this beach is on an island and in addition to its transparent waters you can enjoy the art deco architecture of the buildings of the area.
Star Island
It is an artificial island built in the beautiful, turquoise waters of Biscayne Bay, south of Miami Beach. It is famous for its wealthy residents, many of whom are famous movie stars and the elite of the business world.
Book your Hotel in Miami
Αctivities in Miami
Outdoor activities in Miami
Are you looking for an outdoor activity in Miami? See our alternative suggestions
Airport transport