Dubai
Destinations World

Dubai - Tailor made
Visit the top attractions of Dubai
Dubai has many attractions that you must see and that you should include in your trip if you want to experience the incredibly enchanting atmosphere of the area.
On this page you can book the hotel of your choice, tours, as well as d ay trips.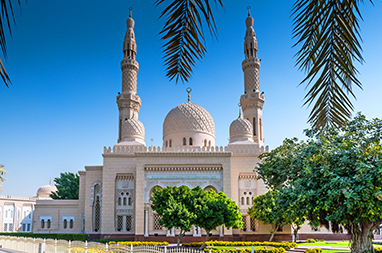 Jumeirah Mosque
Jumeirah Mosque is considered by many to be the most beautiful mosque in Dubai. An exact replica of Cairo's Al-Azhar Mosque, which is eight times its size, the Jumeirah Mosque is a good example of Islamic architecture. It is also particularly beautiful at night when illuminated with floodlights.
Burj Khalifa
The landmark building of Dubai and the most important tourist attraction is the Burj Khalifa, which at 829.8 meters is the tallest building in the world and the most famous of the city's landmarks. It offers a stunning 360 degree view.
Aquarium of Dubai
It is one of the top tourist attractions in the city, housing 140 species of marine life in the huge tank on the ground floor of Dubai Mall. In addition to the free view from the mall, if you enter the underwater zoo, you can walk through the tunnels of the aquarium.
Museum of Dubai
Within the walls of Al Fahidi Fort in Old Dubai is a brilliant tribute to the city's past. Dubai's historic building tells its story through traditional scenes from Arab households, bazaars and mosques that offer unique information about desert life by the sea.
Book your Hotel in Dubai
Αctivities in Dubai
Day tours
Dubai has many wonderful places around it that will tempt you to make at least one day trip or a cruise to discover them.
Outdoor activities in Dubai
Are you looking for an outdoor activity in Dubai? See our alternative suggestions
Airport transport