Abu Dhabi
Destinations World

Abu Dhabi - Tailor Made
Visit the top attractions of Abu Dhabi
Abu Dhabi has many attractions that you must see and that you should include in your trip if you want to experience the incredibly enchanting atmosphere of the area.
On this page you can book the hotel of your choice, tours, as well as d ay trips.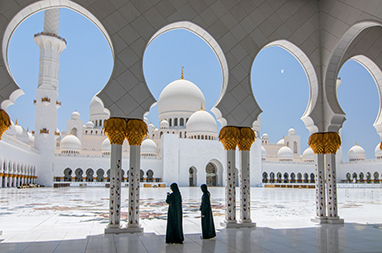 Sheikh Zayed Grand Mosque
Cast in Macedonian marble, the Sheikh Zayed Grand Mosque is the landmark building of Abu Dhabi and by far the most popular attraction in the city. The mosque combines Mameluke, Ottoman and Fatimid design elements to create a harmonious and completely modern mosque that celebrates Islamic architecture.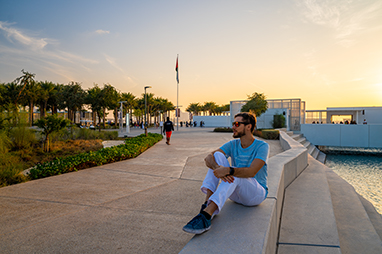 Abu Dhabi Louvre
The most impressive museum in the Middle East, the Abu Dhabi Louvre, presents the history of mankind's artistic achievements, from the Neolithic to the present day. The richness and diversity of the art on display, from the ancient Egyptian statuette to Picasso's famous paintings, is impressive.
Desert safari
Perhaps the most popular activity in Abu Dhabi is desert safari. It takes place south of the Emirate of Abu Dhabi, either in the beautiful Liwa Oasis just off the edge of the Empty Quarter, or in the Al Khatim Desert near Al Ain.
Ferrari World
This eponymous theme park brings the thrill of Formula 1 racing to Abu Dhabi and is one of the top venues. There is also a collection of Ferrari cars, with models dating back to 1947, as well as the ability to take a tour of the factory.
Book your Hotel in Abu Dhabi
Αctivities in Abu Dhabi
Day tours
Abu Dhabi has many wonderful places around it that will tempt you to make at least one day trip or a cruise to discover them.
Outdoor activities in Abu Dhabi
Are you looking for an outdoor activity in Abu Dhabi? See our alternative suggestions
Airport transport