Tel Aviv
Destinations World

Tel Aviv - Tailor Made
Visit the top attractions of Tel Aviv
Tel Aviv has many attractions that you must see and that you should include in your trip if you want to experience the incredibly enchanting atmosphere of the area.
On this page you can book the hotel of your choice, tours, as well as d ay trips.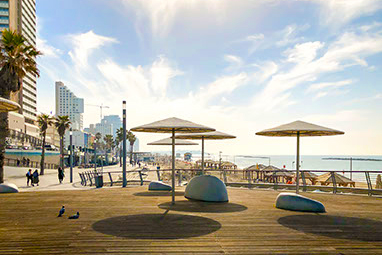 The beach promenade
Recently renovated, the coastal road stretches along the coast of Tel Aviv. It offers easy access to the beach or to any of the countless cafes scattered along the coast, but above all it is the best place to enjoy the sunset.
The old town and port of Jaffa
One of the oldest port cities in the world, Jaffa's Old Town is a maze of shops and cafes scattered throughout the Jaffa flea market. Head to the port for fresh fish, or get lost in the streets of the Twelve Signals.
Park Hayarkon
Tel Aviv's largest park is Park Hayarkon and crosses east to west along the Yarkon River, has a small zoo and plenty of space for picnics and bike rides.
Habima Square
Habima Square (the stage square) hosts its Philharmonic Orchestra and the HaBima National Theater. In the shadows, its sunken garden is a dream spot, with classical music being heard around the clock, but only to those sitting in the sunken area.
Book your Hotel in Tel Aviv
Αctivities in Tel Aviv
Day tours
Tel Aviv has many wonderful places around it that will tempt you to make at least one day trip or a cruise to discover them.
Outdoor activities in Tel Aviv
Are you looking for an outdoor activity in Tel Aviv? See our alternative suggestions
Airport transport