Jerusalem
Destinations World

Jerusalem - Tailor Made
Visit the top attractions of Jerusalem
Jerusalem has many attractions that you must see and that you should include in your trip if you want to experience the incredibly enchanting atmosphere of the area.
On this page you can book the hotel of your choice, tours, as well as d ay trips.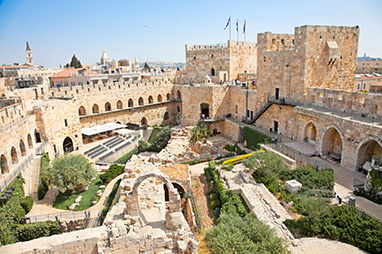 Acropolis (Tower of David)
The Acropolis (Tower of David), in fact, has nothing to do with David, as it was built by King Herod to protect the palace he built around 24 BC. It was rebuilt successively by the Crusaders and the Turks of Egypt, during their reign in Jerusalem.
Haram Al-Sharif (Temple Mount)
Visit one of the holiest places on earth. This is the place where Abraham is said to have offered his son as a sacrifice to God, where Solomon built the First Temple and where it is said that the Prophet Muhammad ascended to heaven during the early years of the preaching of Islam.
Church of the Resurrection
For Christians, it is the holiest site in Jerusalem and is said to have been built on the site where Jesus was crucified. The original church (built in 335 AD) was destroyed in 1009 and the large church that exists now dates from the 11th century. The interior of the church is an excellent example of religious architecture.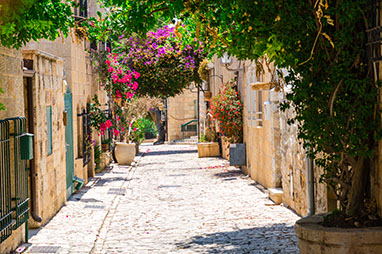 The Old Town
The Old Town is home to many of Jerusalem's most important attractions. The Old Town includes four separate neighborhoods: Jewish, Muslim, Christian and Armenian. Each district exudes its own unique atmosphere, with religious sites and shops.
Wall of tears
The Wall of Tears is the surviving wall of the first temple in Jerusalem. It is called the Wall of Tears because of the people's mourning for the loss of the temple in 70 AD, it is now the holiest place in Judaism and has been a place of worship for the Jewish people since the Ottoman era.
Book your Hotel in Jerusalem
Αctivities in Jerusalem
Day tours
Jerusalem has many wonderful places around it that will tempt you to make at least one day trip or a cruise to discover them.
Outdoor activities in Jerusalem
Are you looking for an outdoor activity in Jerusalem? See our alternative suggestions
Airport transport