Lima
Destinations World

Lima - Tailor Made
Visit the top attractions of Lima
Lima has many attractions that you must see and that you should include in your trip if you want to experience the incredibly enchanting atmosphere of the area.
On this page you can book the hotel of your choice, tours, as well as d ay trips.
Convent of San Francisco
The Church of San Francisco and its monastery are most famous for their catacombs containing bones of about 10,000 people here, when it was Lima's first cemetery. Below the church there is a labyrinth of narrow corridors, each lined on both sides with bones.
Park of Love
You will not find a more romantic spot to watch the sunset than the Parque del Amor (Love Park) in Malecón in Miraflores. The mosaic designs created by tiny tiles align the wavy walls, often compared to those designed by Antoni Gaudí in Barcelona.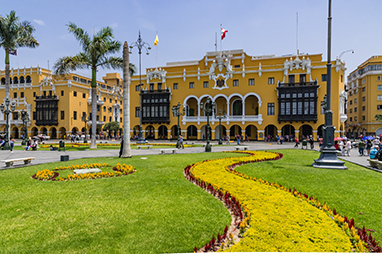 Main Square
This square is the historical center of Lima. Most of the buildings from the original city were lost in the earthquake of 1746 - the only original structure that stood in the square de Armas is the bronze fountain in the center, built in 1651.
Paragliding over the Miraflores
On the coastal road of Miraflores you can do paragliding overlooking the luxurious coastal town and the Pacific Ocean at the same time.
Book your Hotel in Lima
Αctivities in Lima
Day tours
Lima has many wonderful places around it that will tempt you to make at least one day trip or a cruise to discover them.
Outdoor activities in Lima
Are you looking for an outdoor activity in Lima? See our alternative suggestions
Airport transport