Varadero
Destinations World

Varadero - Tailor Made
Visit the top attractions of Varadero
Varadero has many attractions that you must see and that you should include in your trip if you want to experience the incredibly enchanting atmosphere of the area.
On this page you can book the hotel of your choice, tours, as well as d ay trips.
Saturn Cave
Itis a very popular underground cave, in which you can find fish and other species that characterize the aquatic Cuban fauna. It is full of stalactites and stalagmites, which sink into the water.
Santa Elvira Church
The small Catholic church of Santa Elvira dates back in 1938. It is known for its peculiar and irregular structure, consisting of stones and wood, gives it an Alpine-like character. On the upper front, a horseshoe arch serves as a bell tower with a cross on top.
Josone Park
Parque Josone is a calm oasis in the heart of Varadero. Built in the 1940s, it was originally owned by the owner of the factory Jose Uturrio, who is believed to have built the mansion here for his wife Onelia.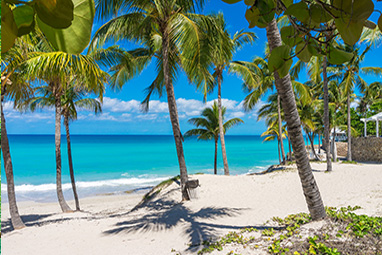 Varadero Beach
Varadero is the most famous seaside resort in Cuba and one of the largest resorts in the Caribbean. It stretches in front of a nice white-sand beach of 20 kilometers, which is bathed in the warm waters of Gulf Stream.
Book your Hotel in Varadero
Αctivities in Varadero
Looking for something different you can do in Varadero? Book tickets for tourist attractions, museums, tours and much more.
Rent a car