Buenos Aires
Destinations World

Buenos Aires - Tailor Made
Visit the top attractions of
Ancient Olympia has many attractions that you must see and that you should include in your trip if you want to experience the incredibly enchanting atmosphere of the area.
On this page you can book the hotel of your choice, tours, as well as d ay trips.
La Boca and the Caminito Street Museum
Arguably the most colorful neighborhood of Buenos Aires, La Boca is a favorite hangout for artistic and creative types. It is worth exploring the Museum of Caminito Street, a colorful pedestrian-friendly area that it operates as an open-air museum and art market since 1959.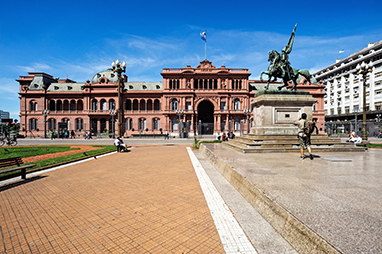 Plaza de Mayo and Casa Rosada
It was founded in the 16th century and was the scene for many important events in the history of the city. Be sure to spend some time on this historically and politically important area. It was here that Juan and Eva Perón gave famous speeches from the balconies of the building.
Women's Bridge
The women's bridge is a footbridge on pier 3 of the Puerto Madero region, which connects the two banks of the Rio de la Plata River. It was designed by the Spanish architect Santiago Calatrava and is one of the most important sights of the city.
The Metropolitan Cathedral
Despite its rather simple exterior, this Catholic church has a magnificent interior space, along with many important works of art and statues of the 18th century, as well as a Walcker instrument dating back to 1871 with its impressive 3,500 pipes that is considered one of the best of its kind.
Book your Hotel in Buenos Aires
Αctivities in Buenos Aires
Day tours
Buenos Aires has many wonderful places around it that will tempt you to make at least one day trip or a cruise to discover them.
Outdoor activities in Buenos Aires
Are you looking for an outdoor activity in Buenos Aires? See our alternative suggestions
Airport transport