Mumbai
Destinations World

Mumbai - Tailor made
Visit the top attractions of Mumbai
Mumbai has many attractions that you must see and that you should include in your trip if you want to experience the incredibly enchanting atmosphere of the area.
On this page you can book the hotel of your choice, tours, as well as d ay trips.
Taj Mahal Palace Hotel
The Taj Mahal Palace is built over a century ago and is the first luxury hotel in India. Its image lends its renaissance architecture with Islamic touches, such as corner turrets with onion domes, sharp arches and covered balconies.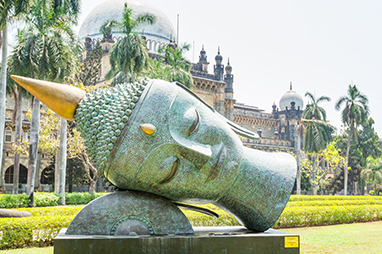 Chhatrapati Shivaji Maharaj Vastu Sangrahalaya
A visit to the ChhatrapaTI Shivaji Maharaj Vastu Sangrahalaya Museum is also high on the list of top things to do in Mumbai. Explore the museum's extensive permanent collection of 70,000 items, including Indian miniatures, Himalayan art, ancient Asian coins, precious swords and more.
The India Gate
Standing proudly on the shores of the Arabian Sea on the Apollo Bunder waterfront, India Gate is one of Mumbai's most popular and valuable attractions. The 26-meter basalt arch, which combines the architectural styles of the triumphant Roman arches with traditional Hindu and Muslim designs.
Kanheri Caves
While Bombay may seem like a glamorous, modern city at first glance, it also has some awe-inspiring attractions. Spend a day in Sanjay Gandhi Park exploring the Kanheri Caves, a complex of monuments carved out of basalt formations 2,000 years ago.
Book your Hotel in Mumbai
Αctivities in Mumbai
Day tours
Mumbai has many wonderful places around it that will tempt you to make at least one day trip or a cruise to discover them.
Outdoor activities in Mumbai
Are you looking for an outdoor activity in Mumbai? See our alternative suggestions