Ho Chi Minh
Destinations World

Ho Chi Minh - Tailor made
Visit the top attractions of Ho Chi Minh
Ho Chi Minh has many attractions that you must see and that you should include in your trip if you want to experience the incredibly enchanting atmosphere of the area.
On this page you can book the hotel of your choice, tours, as well as d ay trips.
The Post Office
A post office may not sound very exciting, but this one in Ho Chi Minh City was designed by Gustave EiXel of the Eiffel Tower. The building has been designed in Gothic style and dates back to 1886 and is still one of the most famous monuments in the city.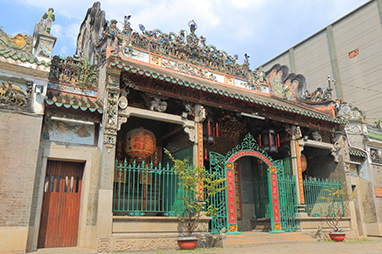 Thiên Hau Temple
The atmospheric 19th century Thiên Hau Temple is one of the best places to visit in Ho Chi Minh City and one of the oldest Chinese temples in the city. Dedicated to the Lady of the Sea, Thiên Hau, this evocative temple is visited by local pilgrims as well as tourists from all over the world.
Giac Lam Pagoda
The oldest church in the city dates from 1744. It is located in a beautiful garden and its name means "Temple of the sense of wood". At the entrance there is a Bodi tree, which is sacred to Buddhism, a gift from a visiting monk from Sri Lanka in 1953.
Cu Chi Tunnels
The Cu Chi Tunnels are one of the top excursions for city visitors. This vast network of 250-kilometer tunnels served as a base for Vietnam's military operations during the Vietnam War.
Book your Hotel in Ho Chi Minh
Αctivities in Ho Chi Minh
Day tours
Ho Chi Minh has many wonderful places around it that will tempt you to make at least one day trip or a cruise to discover them.
Outdoor activities in Ho Chi Minh
Are you looking for an outdoor activity in Ho Chi Minh? See our alternative suggestions
Airport transport