Singapore
Destinations World

Singapore - Tailor made
Visit the top attractions of Singapore
Singapore has many attractions that you must see and that you should include in your trip if you want to experience the incredibly enchanting atmosphere of the area.
On this page you can book the hotel of your choice, tours, as well as d ay trips.
Buddha Tooth Relic Temple
The Chinese build temples dedicated to many gods and many things, but this temple is one of the most unusual. It was built in the late 1980s and was supposed to be a traditional temple but somewhere along the way it became the temple where a Buddha tooth relic is kept.
Clarke Quay
One of Singapore's main tourist attractions is at the mouth of the Singapore River, it was the city's commercial hub in the late 19th century. It is still busy, but with a different kind of trade: trendy restaurants, unique boutiques, and more that combine Asian and European influences.
Gardens by the Bay
Gardens by the Bay is a recent addition to Singapore's tourist attractions. It is built in central Singapore and consists of three gardens, Bay Central, Bay East and Bay South, the largest garden, which features tropical horticulture and includes tree-like structures up to 50 meters high.
Marina Bay Sands
The luxury Marina Bay Sands Resort includes a high-end luxury hotel, a shopping mall with a canal that crosses the Art Science Museum and the Marina Bay Sands Skypark Observatory. The Skypark projection deck and infinity pool are located on the ship (yes, it looks like a ship) located at the top of the hotel.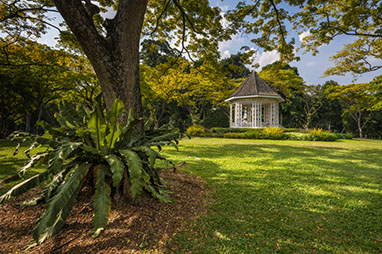 Singapore Botanic Gardens
The Singapore Botanic Gardens are mostly free, except for the National Orchid Garden, which is the most popular part of the garden. The garden contains more than 60,000 species of plants and animals and hosts the first kindergarten in the world.
Book your Hotel in Singapore
Αctivities in Singapore
Outdoor activities in Singapore
Are you looking for an outdoor activity in Singapore? See our alternative suggestions
Airport transport