Kyoto
Destinations World

Kyoto - Tailor made
Visit the top attractions of Kyoto
Kyoto has many attractions that you must see and that you should include in your trip if you want to experience the incredibly enchanting atmosphere of the area.
On this page you can book the hotel of your choice, tours, as well as d ay trips.
Daikaku-Ji Temple
Daikaku-ji is a Shingon Buddhist temple. Ikebana's Saga Go-ryū School is based in the temple. The temple's artificial pond, Lake awasawa, is one of the oldest garden ponds in Japan.
Kyoto tower
Kyoto Tower is an observation tower, the tallest structure in Kyoto with an observation deck at 100 meters. The tower is located on a 9-storey building, which houses a 3-star hotel and many shops.
Arashiyama
Arashiyama is one of the most important attractions in Kyoto. It is full of temples and shrines, but the most impressive attraction is the famous Arashiyama Bamboo Grove, standing inside these elevated bamboo stems which is like being in another world.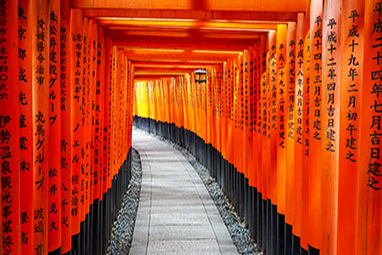 Fushimi Inari Taisha
The sanctuary is located at the base of a mountain, which is located 233 meters above sea level. Fushimi Inari Taisha is now known worldwide as one of the most iconic landmarks in Kyoto and Japan.
Nishiki Market
Kyoto's largest traditional food market. There are still several traditional shops to give you a taste of what a traditional Suzengai (shopping street) would look like. Some stores sell also packaged food.
Ryōanji (Peaceful Dragon Temple)
Ryōanji Garden is one of the most famous examples of a rock garden. This type of garden consists of rocks and pebbles and not vegetation and water, and was created mainly on the basis of temples to encourage reflection.
Book your Hotel in Kyoto
Αctivities in Kyoto
Day tours
Kyoto has many wonderful places around it that will tempt you to make at least one day trip or a cruise to discover them.
Outdoor activities in Kyoto
Are you looking for an outdoor activity in Kyoto? See our alternative suggestions