Oxford
Destinations World

Oxford - Tailor made
Visit the top attractions of Oxford
Oxford has many attractions that you must see and that you should include in your trip if you want to experience the incredibly enchanting atmosphere of the city.
On this page you can book the hotel of your choice, tours, as well as d ay trips.
Boating
Have a great boating on the Cherwell River and remember that here, 150 years ago, math teacher Louis Carroll went boating with a young girl, Alice, and for fun he made up the beautiful story of Alice in Wonderland.
Bridge of Sighs
A few meters from Radcliffe Square, this impressive Hertford Bridge, which connects Hertford College and New College Lane, is a landmark in the city and it does not mean to be in Oxford and not be photographed on this bridge.
Christ Church College
A visit to this college is a must as the reality here meets the fantasy world of Harry Potter. Scenes from the film have been shot in various areas of the college with the most characteristic evolving into the large dining room.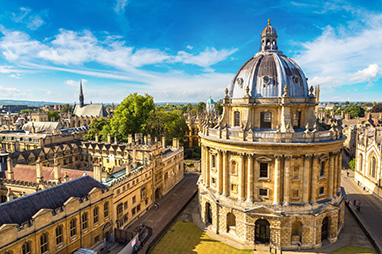 Radcliffe Square
On Catte Str you will find the famous Radcliffe Square. In the center stands the remarkable circular building of Radcliffe Camera, a different library, part of the Bodleian Library, the oldest library in Oxford and the second largest in England, with over 12,000,000 books and manuscripts.
Book your Hotel in Oxford
Αctivities in Oxford
Day tours
Oxford has many wonderful places around it that will tempt you to make at least one day trip to discover them.
Outdoor activities in Oxford
Are you looking for an outdoor activity in Oxford? See our alternative suggestions
Airport transport