Edinburgh
Destinations World

Edinburgh - Tailor made
Visit the top attractions of Edinburgh
Edinburgh has many attractions that you must see and that you should include in your trip if you want to experience the incredibly enchanting atmosphere of the city.
On this page you can book the hotel of your choice, tours, as well as d ay trips.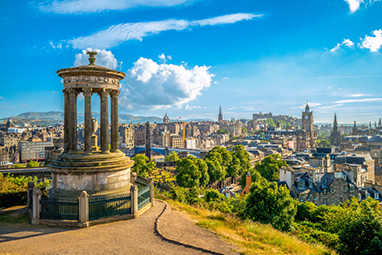 Calton Hill
At the top of the hill, in the center of the city is the National Monument of Scotland, which looks amazingly like the Parthenon, while next to it stand the Nelson Monument and the Dugald Stewart Monument. The Edinburgh Observatory is also housed here.
Castle
At the top of the old town is the Castle with a panoramic view. Inside are kept the Crown Gems, the War Museum and of course the Royal Apartments. The oldest part of the Castle, the Church of Agia Margarita, was built in the 12th century.
Dean Village
A lush paradise just outside central Edinburgh crossed by the River Leith. Small bridges, traditional houses and narrow streets, a journey back in time. Dean Village exudes a calm since the only sound that is heard is that from the streams.
Holyrood Palace
The palace where the most important chapters of Scottish History were written, the residence of Queen Mary Stewart during her short tenure. It features 14 historic luxury rooms, magnificent gardens and includes the ruins of Holyrood Abbey. Favorite point of the visitors, the Royal Gallery.
The Royal Mile
A four-lane road from the Scottish Parliament to Edinburgh Castle. And in between… many and interesting stops: Underground pub, small souvenir shops, small museums, alleys with hipster shops and in the middle of the road, the Cathedral of St Giles.
Book your Hotel in Edinburgh
Αctivities in Edinburgh
Day tours
Edinburgh has many wonderful places around it that will tempt you to make at least one day trip to discover them.
Outdoor activities in Edinburgh
Are you looking for an outdoor activity in Edinburgh? See our suggestions
Airport transport