Porto
Destinations World

Porto - tailor made
Visit the top attractions of Porto
Porto has many attractions that you must see and that you should include in your trip if you want to experience the incredibly enchanting atmosphere of the area.
On this page you can book the hotel of your choice, tours, as well as d ay trips.
A walk by the river
Since the city is built along a river, all walks will inevitably take place there. You will see traditional buildings in different colors with flowers on their balconies that compose a painting landscape, traditional cafes and patisseries, try the popular sweet Pastel De Nata.
Dom Luís I bridge
It was completed in 1886 by a student of Gustave Eiffel, Teophile Seyrig, and connects the city of Porto with the Vila Nova de Gaia. The bridge is built for pedestrians, vehicles and the metro. The view of the river and the Old Town is excellent.
Historical Centre
Here you will find monuments and sights from the medieval era, but also from the modern one. You will see the Church of St. Francis, the Cathedral of the city, the Praça da Ribeira, the National Theater of S. Joao, the Casa do Infante and many other attractions.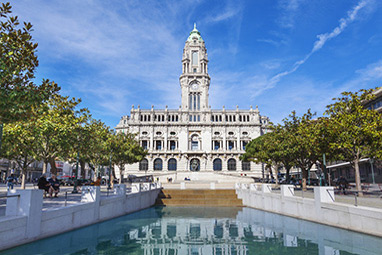 Allied Avenue
In the city center, Allied Avenue is the most characteristic street. It starts from the City Hall, where you will see an impressive bell tower 70 meters, and ends at the Pracada Liberdade, which has its roots in the early 18th century
Book your Hotel in Porto
Αctivities in Porto
Day tours
Porto has many wonderful places around it that will tempt you to make at least one day trip or a cruise to discover them.
Outdoor activities in Porto
Are you looking for an outdoor activity in Porto? See our alternative suggestions
Airport transport