Bergen
Destinations World

Bergen - Tailor Made
Visit the top attractions of Bergen
Bergen has many attractions that you must see and that you should include in your trip if you want to experience the incredibly enchanting atmosphere of the area.
On this page you can book the hotel of your choice, tours, as well as d ay trips.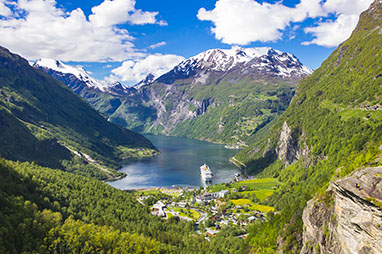 Cruise to the Fjords
Take a 3-hour cruise on the 27km Osterfjord Fjord. On this cruise you will find the narrowest point of the fjord, Mostraumen. Along the way you will also find amazing landscapes, waterfalls that fall from the mountain. Norwegian nature in all its glory.
At Bryggen
The old and picturesque Bergen district is dreamy. Its pier is a UNESCO World Heritage Site. The typical wooden houses were fish depots of the traders of the Hanseatic League. They were originally built in the 12th century but over the years were destroyed by fire and rebuilt in 1702.
A visit to the fish market
In the Torget area, there is the famous Bergen open-air fish market. Here you will find a wide variety of fish and shellfish that are spread out on the counters to become the raw material of Norwegian seafood-based cuisine. Ideal place for a quick and fresh seafood meal.
Climb to Ulriken
To see how impressive Bergen is from above, just take the cable car that will easily take you to Ulriken Mountain at 643 m. Seven mountains surround Bergen, offering thousands of hiking and cycling trails. But also lakes offered for kayaking and beaches for swimming.
Book your Hotel in Bergen
Outdoor activities in Bergen
Are you looking for an outdoor activity in Bergen? See our alternative suggestions
Airport transport