Milan
Destinations World

Milan - Tailor made
Visit the top attractions of Milan
Milan has many attractions that you must see and that you should include in your trip if you want to experience the incredibly enchanting atmosphere of the area.
On this page you can book the hotel of your choice, tours, as well as d ay trips.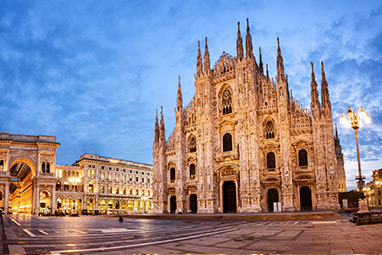 Duomo
One of the most impressive Gothic temples in the world. It took 6 centuries to complete. It houses 3,200 marble sculptures and 135 bell towers as well as the golden statue of the Virgin Mary on its highest peak, a symbol of the city: the locals affectionately call it "La Madonnina" (little Madonna).
Galleria Vittorio Emmanuelle II
This famous gallery houses, among others, the boutiques of Prada, Gucci and Louis VuiBon. It is named after the country's first king and was built in 1865 by Giuseppe Mengoni. Here you will find nice restaurants and cafes.
Brera Gallery
It houses some of the greatest masterpieces of important artists, such as Raphael, Tintoretto, Rembrandt and Caravaggio. This monastery was turned into a gallery by Napoleon the Great and began to collect many works of Renaissance and medieval art.
Teatro alla Scala
Probably the most famous opera in the world, one of the most impressive theaters you have ever seen. In order to perform at the opera, you must arrange your tickets in advance. It is also worth a visit to its Museum, which promises to teach you everything about its history.
Santa Maria delle Grazie
This church houses one of the most famous works of Leonardo da Vinci, the most famous mural of all time, the "Last Supper". But to see it, you must have already bought your ticket.
Naviglio Grande Canal
It is the oldest canal in the city and the area around it is one of the quietest and most picturesque. There are others in the area, one of them was designed by Leonardo da Vinci. The wider area is the favorite of the youth and a favorite spot of the artists.
Castello Sforzesco
The location of the Duchy of Milan and one of the largest castles in Europe, today houses museums and important collections of works of art.
Book your Hotel in Milan
Αctivities in Milan
Outdoor activities in Milan
Are you looking for an outdoor activity in Milan? See our alternative suggestions
Airport transport