Tunis
Destinations World

Tunis - Tailor Made
Visit the top attractions of Tunis
Tunis has many attractions that you must see and that you should include in your trip if you want to experience the incredibly enchanting atmosphere of the area.
On this page you can book the hotel of your choice, tours, as well as d ay trips.
Carthage
The remnants of ancient Carthage - a mythical rich seaside town of the Phoenicians - are scattered in the Bay of Tunis. The columns and piles of marble ruins accompanying a top panorama of the Mediterranean, a sea that was so fundamental for the prosperity of the city.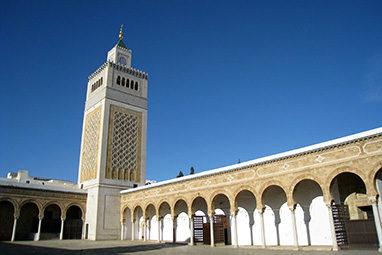 Olive Tree Mosque
The large mosque of the Medina region is home to some of the best examples of religious architecture in the country. Although non-Muslims cannot enter the prayer hall, visitors are free to wander around the luxurious and quiet outdoor courtyard and on the rooftop.
Parc du Belvédère and the Museum of Contemporary Art
It is one of the top spots of the city. The hillside has been planted with pine, carob, olive, fig trees and palm trees. On the east side of the park is the Museum of Modern Art, which hosts the country's leading collection of works. The park is also home to the city's zoo.
Sidi Bou Said
This beautiful seaside neighborhood owes its reputation to three young painters. Paul Klee, August Macke and Louis Moilliet that listened to the beauty of whitewashed buildings and blue canvas doors.
The National Bardo Museum
The most famous mosaic collection in the world is located in this luxurious palace in Tunis. Bardo is one of North Africa's two leading museum experiences. Inside, each room presents wonderful complex and still very vivid examples of mosaic art that was discovered in Tunisia.
Book your Hotel in Tunis
Αctivities in Tunis
Looking for something different you can do in Tunis? Book tickets for tourist attractions, museums, tours and much more.
Day tours
Tunis has many wonderful places around it that will tempt you to make at least one day trip or a cruise to discover them.
Outdoor activities in Tunis
Are you looking for an outdoor activity in Tunis? See our alternative suggestions