Fez
Destinations World

Fez - Tailor Made
Visit the top attractions of Fes
Fes has many attractions that you must see and that you should include in your trip if you want to experience the incredibly enchanting atmosphere of the area.
On this page you can book the hotel of your choice, tours, as well as d ay trips.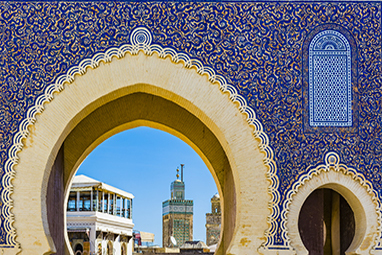 Fes el Bali
Fes el Bali is the area of Medina and the oldest neighborhood of the city. The main gate of the area is Bab Boujloud. As you approach this large old gate, you will have a wonderful view of the famous landmark of the neighborhood: the minaret of Medersa Bou Inania.
Medersa Bou Inania
The Medersa Bou Inania was built between 1350 and 1357 by Merenid Sultan Bou Inan. One of the few religious buildings in the city that non-Muslims can enter, medersa (madra - Islamic school of learning) is a luxurious architectural gem and one of the most beautiful buildings in Morocco.
Medersa el-Attarine
Another example of excellent Merenid architecture, Medersa el-Attarine was built in 1325 by Abu Said. The courtyard here is a wonderful demonstration of the intricate décor from this period, with ornate zellige tiles and cedar wood sculptures.
Mellah
The atmospheric old Mellah (Jewish quarter) is located in Fes el Jedid, just north of the Royal Palace. Throughout this compact district, the stripes are filled with nice (though very dilapidated) examples of early 20th century houses, which were once the home of Fes' vibrant Jewish community.
Book your Hotel in Fez
Αctivities in Fes
Outdoor activities in Fez
Are you looking for an outdoor activity in Fez? See our alternative suggestions
Airport/Port transport