Skopelos
Visit the top attractions of Skopelos
Skopelos has many attractions that you must see and that you should include in your trip if you want to experience the incredibly enchanting atmosphere of the island.
On this page you can book the hotel of your choice, tours, as well as d ay trips. In case you need our help, click on BOOK NOW and ask for a quote.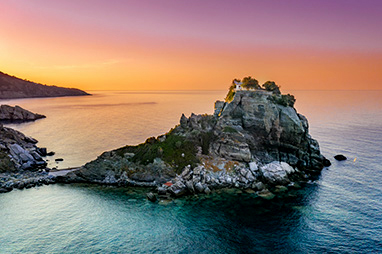 Churches
On the island of Skopelos there are 360! Churches, most famously the church of Ai Giannis which is located on the north side of the island and is built on a rock.
Chora
Uniquely beautiful. Narrow cobbled alleys, huge bougainvilleas embrace balconies and freshly whitewashed walls, enclosing tiny courtyards.
Beaches
The beaches of Skopelos have stunning natural beauty and turquoise waters. Some of them are Stafylos, Agnontas, Limnonari, Panormos, Milia and many more.
Villages
In Skopelos you will see beautiful villages, like Glossa that is built high, Loutraki, Klima, the settlement Elios - Neo Klima.
Book your Hotel in Skopelos
Book your ferry ticket