Hydra
Destinations Greece

Hydra - Tailor made
Visit the top attractions of Hydra
Hydra has many attractions that you must see and that you should include in your trip if you want to experience the incredibly enchanting atmosphere of the island.
On this page you can book the hotel of your choice, tours, as well as d ay trips.
Beaches
Hydra has many beaches, with sand and pebbles or rocks, which are accessible on foot, by donkeys or by sea. Swim in Spilia, Hydroneta, Mandraki, Vlychos, Agios Nikolaos and Kaoumithi.
In the alleys
It's like walking into another era! All the streets are paved and there is no means of transport on the island. There are carriages and sea taxis. Nothing on this island is reminiscent of the 21st century.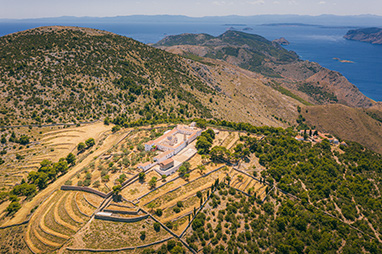 Monastery of Prophet Elias
Built in the 19th century. Located on the northern slopes of Mount Eros at an altitude of 500 meters, it offers a magnificent view over the town and the sea. the Monastery of Prophet Elias is a good two hours hike from the port.
Walk to the port
One of the busiest parts of the island. Here you will see the Merchant Marine Academy, one of the most historic schools, the protection cannons of the island and one of the most beautiful buildings of Hydra, the Tombazi Mansion.
Book your Hotel in Hydra
Book your ferry ticket