Porto Heli
Destinations Greece

Porto Heli-tailor made
Visit the top attractions of Porto Heli
Porto Heli has many attractions that you must see and that you should include in your trip if you want to experience the incredibly enchanting atmosphere of the city.
On this page you can book the hotel of your choice, tours, as well as d ay trips.
Beaches
Apart from the natural beauty of the area you will also enjoy the beaches. Starting from Ververonta, the small beach in Porto Heli, continue to Hinitsa with the soft sand and pines that reach the sea and reach Agios Emilianos.
Saint Emilianos
A few kilometers south of Porto Heli is the area of ​​Agios Emilianos from where you can enjoy the view to the island of Spetses. In the green area you will find hidden luxury villas and you will enjoy the quiet sandy beaches with the transparent waters around the cape.
On the beautiful island of Hinitsa
An island of unparalleled natural beauty, just 60 meters from the adjacent land, which stands out with its clear blue waters.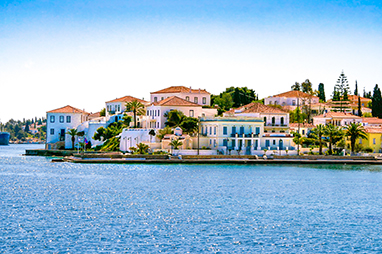 Spetses
A top excursion from there is Spetses. You can reach them by ferry that runs 4 times a day all year round, with traditional boats that operate during the summer months but also by sea taxi that operates 24 hours a day, from Costa.
Hiking
The wider area of ​​Porto Heli is a good choice for hiking as the trails pass through small churches, settlements, secluded beaches and hills. The routes are many and they will definitely reward you.
Book your Hotel in Porto Heli
Book your ferry ticket
Rent a car