Patras
Destinations Greece

Patra - Tailor made
Visit the top attractions of Patras
Patra has many attractions that you must see and that you should include in your trip if you want to experience the incredibly enchanting atmosphere of the city.
On this page you can book the hotel of your choice, tours, as well as day trips.
Medieval castle
The Castle of Patras built in the 6th AD on the ruins of the ancient Acropolis is located about 800 meters from the coast. From its construction until World War II it was used for the defense of the city.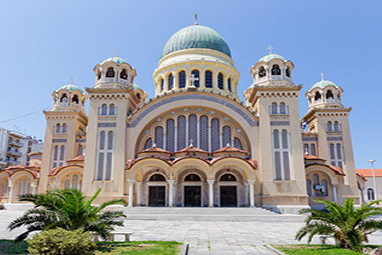 Saint Andrew church
There are two temples of the patron saint of Patras, the old one that was built on the place where the Apostle Andreas martyred and hosts his Holy Cross and the newer church is one of the largest and most elaborate in the Balkans.
Ancient Conservatory
In the Upper City of Patras is the Roman Conservatory, which is earlier than the Herodion in Athens. In 1956 the restoration works were completed and thus it was restored to its original form. Every summer it hosts leading Greek and foreign artistic bands.
Wetland of Kotychi - Strofilia
A Landscape of unique natural beauty, with lagoons, a large pine forest and the sand dunes of Kalogria beach. You will also find there the largest pine forest in Greece and one of the largest in Europe.
Achaia Clauss
The winery founded by the Bavarian Gustav Klaus in 1861, is famous mainly for the production of Mavrodafni wine. The stone buildings, the large oak carved barrels and its unique location attract many visitors.
Book your ferry ticket
Book your Hotel in Patras
Rent a car