Destinations Greece

Kalamata - Tailor made
Visit the top attractions of Kalamata
Kalamata has many attractions that you must see and that you should include in your trip if you want to experience the incredibly enchanting atmosphere of the city.
On this page you can book the hotel of your choice, tours, as well as day trips.
Ancient Messina
One of the most beautiful archeological sites in Greece, with its theater, the Ecclesiastical Hall with the characteristic colored mosaics, the Asclepieion, the Fountain of Arsinoe and the evocative Stadium, the size and the view of which are breathtaking.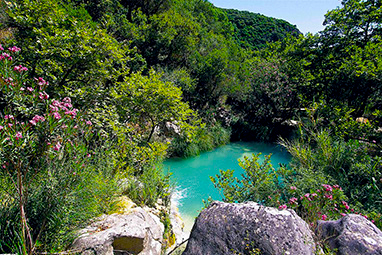 Waterfalls of Polylimni
Fifteen consecutive lakes, others framed by large waterfalls, other small pools ending in river waters. You will find it near the village of Haravgi, about halfway through the Kalamata-Pylos road.
Outdoor railwaypark
A journey into the history of the Greek railway. The only open museum of its kind in our country.
Pylos - Voidokilia
Pylos is a small coastal town, formerly known as Navarino, the site of the battle of the same name. Very close to Pylos and next to the lagoon of Gialova, is the natural beauty beach of Voidokilia.
Book your Hotel in Kalamata
Day tours
Kalamata has many wonderful places around it that will tempt you to make at least one day trip to discover them.
Rent a car