Gythio
Destinations Greece

Gythio-tailor made
Visit the top attractions of Gythio
Gytheio has many attractions that you must see and that you should include in your trip if you want to experience the incredibly enchanting atmosphere of the city.
On this page you can book the hotel of your choice, tours, as well as d ay trips.
Historical - Ethnological Museum of Gythio
The Historical and Ethnological Museum of Gythio is housed in the historic Tzannetaki Tower. The museum was inaugurated in 1993 with an impressive exhibition entitled: "Travelers in Mani 15th-19th century".
Shipwreck "Dimitrios"
In the amazing beach of Selinitsa you will find the wreck of the ship Dimitrios which has been perfectly harmonized with the natural environment. The ship has been on the beach since 1981.
Marathonisi island
According to mythology, the quiet, pine-covered Marathonisi, connected to Gythio by a thin path, is the ancient Krana, where Paris (prince of Troy) and Eleni (wife of Menelaus of Sparta) started the Trojan war.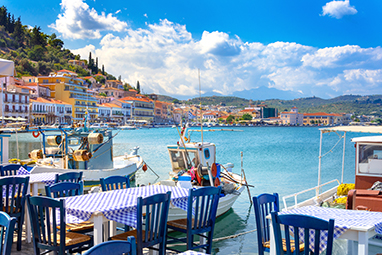 Taverns by the sea
The most characteristic image of Gythio is the taverns by the sea. And of course this is what you should taste in such a place is of course seafood. Enjoy the food along with the magical aura of the town and the port located near the mouth of the river Evrotas.
Book your Hotel in Gythio
Rent a car