Zagorochoria
Destinations Greece

Zagorochoria - Tailor made
Visit the top attractions of Zagorochoria
Zagorochoria has many attractions that you must see and that you should include in your trip if you want to experience the incredibly enchanting atmosphere of the city.
On this page you can book the hotel of your choice, tours, as well as day trips.
In the villages
They are 46 and although they look the same, each one has its own character. The most famous are Kipoi, Monodendri, Vitsa, Megalo and Mikro Papigo, Aristi and many more, all stone and unique.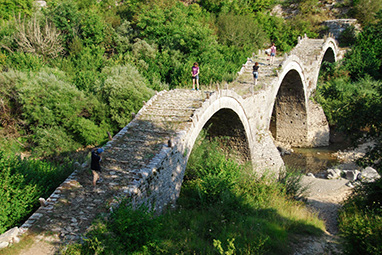 On the stone bridges
Special architectural sights are the stone arched bridges that specialized craftsmen of the area built in the 18th and 19th century to unite the villages of the area. The most famous are Plakidas, Kokoris, Klidonia, Missios.
In the stone monasteries
The monasteries, but the churches as well, are also an amazing architectural samples caring a long history each one of them. Visit the Monastery of Agia Paraskevi in ​​Monodendri, the Monastery of Rogovo in Tsepelovo, Panagia Spiliotissa between Aristi and Papigou.
In Vikos gorge
The unique gorge of Vikos you can either cross, with a guide, in 6-8 hours starting from Kipous or Monodendri and ending in the village of Vikos, or admire it from above in Monodendri, in Vikos and from the balcony of Beloi in Vradeto.
At Vradeto stair (Skala)
The 1,200 stone steps were the only way to connect Vradeto with the neighboring Kapesovo village. The route lasts 40 minutes, while you will find similar stairs in Vitsa (connecting with Koukouli) and that of Koukouli (connecting with Kipi).
In Voidomatis
You can hike to meet the mouth of the river from the village of Vikos. For rafting after the bridge of Aristi and after the bridge of Klidonia, the river is crossed with an easy route ideal for beginners.
Ovires Rogovo
Between Big and Small Papigo, in Rema Rogovou following a path, you will reach these natural swimming pools, in a narrow ravine with huge, smooth slate slabs. Ideal place for swimming in summer even though the waters are cold.
In Drakolimni of Tymfi
The alpine lake (dragon lake) of Tymfi is located in Astraka at an altitude of 2,050 m. The trail starts from Mikro Papigo. Enjoy the unique landscape of the lake as well as the special alpine newts that live in the area.
Book your Hotel in Zagorochoria
Rent a car