Parga
Visit the top attractions of Parga
Parga has many attractions that you must see and that you should include in your trip if you want to experience the incredibly enchanting atmosphere of the area.
On this page you can book the hotel of your choice, tours, as well as d ay trips.
Beaches of Parga
Swim in the most famous beach of Parga, Valtos, while just a few meters from Parga is the beach of Kryoneri. Also swim at the beach of Lichnos, the bay of Ai Giannakis and Sarakiniko, 19 km from Parga.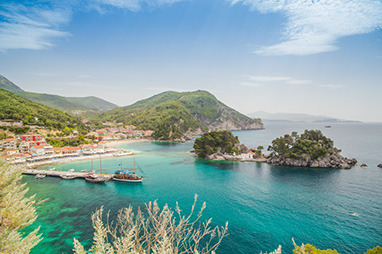 Island of Panagia
This green island is located right in front of the port of Parga, owes its name to the church of Panagia. See also the beautiful French castle covered by the green of the island.
Castle of Ali Pasha
It was built in 1814 to become the base of Ali Pasha. The Castle offers a stunning view of the Ionian Islands and you can also visit it by train that starts from Parga.
Activities in Acheron
The Acheron River has developed into a nature sport, such as: Hiking, Horse Riding, Paragliding in Paramythia, Rafting, kayak and canoe - kayak in Stena village and of course swimming in the icy waters of the river.
Book your Hotel in Parga
Rent a car