Tilos
Destinations Greece

Tilos - Tailor made
Visit the top attractions of Tilos
Tilos has many attractions that you must see and that you should include in your trip if you want to experience the incredibly enchanting atmosphere of the city.
On this page you can book the hotel of your choice, tours, as well as d ay trips.
Megalo Horio
With its Aegean architecture it was built at the beginning of the 19th century - until then its inhabitants lived in the Castle of the Knights. It maintains all the simplicity of the Aegean. The houses are around narrow alleys, withblue windows. Geraniums and bougainvillea add a little more color.
Mikro Horio
Here you will see a medieval settlement. The last inhabitants left after World War II and now it is empty village. It is a 45-minute walk from Livadia. Today you will find a house that opens as a bar in the summer. The place is a fascinating place to wander.
Monastery of Agios Panteleimon
The beautiful Monastery of Agios Panteleimon is located on a steep road. It is one of the most important places of Tilos and the Dodecanese in general. Dating back to the 15th century, it features a magnificent wooden temple (1714) and religious paintings by Gregory of Symi.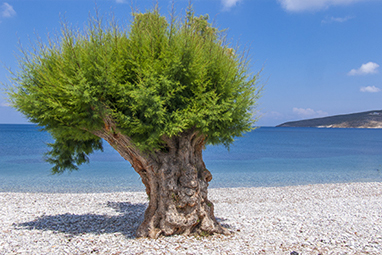 Livadia beach
This is a large sandy beach, well organized where you will find sunbeds and umbrellas. Also here you will find cafes and taverns to enjoy a wonderful meal after your swim.
Book your Hotel in Tilos
Rent a car