Leros
Destinations Greece

Leros - Tailor Made
Visit the top attractions of Leros
Leros has many attractions that you must see and that you should include in your trip if you want to experience the incredibly enchanting atmosphere of the area.
On this page you can book the hotel of your choice, tours, as well as d ay trips.
Saint Isidore
The magnificent church of Agios Isidoros is located on the island of Alinda which is connected to the mainland by a narrow passage, it is built on the site of an ancient temple, the ruins of which can still be seen behind the altar. The view from the church is very beautiful, especially at sunset.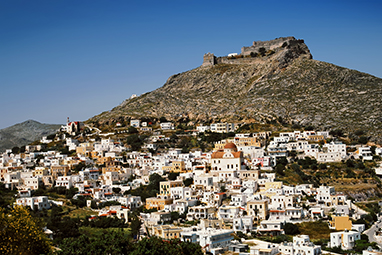 Panteli Castle
Through a steep, rocky path from Platanos that lead to the top of the hill of Panteli Castle. The oldest, inner parts of the castle date back more than 1000 years, but the outer walls were added by the Knights of St. John in the 14th and 15th centuries.
Windmills
The most picturesque location in Leros are the windmills in Panteli, on the road to the castle. On the north side of the island, you can see some modern windmills at the top of the mountains.
Historical and Folklore Museum
It is housed in an old villa by the sea. The upper rooms feature weapons, helmets and photographs from World War II, while at the rest of the house you will find displays of traditional costumes and a gallery of works of art created by political prisoners imprisoned on the island.
Church of the Prophet Elijah
A nice little church under the Castle of Pandeli. It is built by the sea and offers stunning sunset views.
Book your Hotel in Leros
Book your ferry ticket
Rent a car