Karystos
Destinations Greece

Karystos - Tailor Made
Visit the top attractions of Karystos
Karystos has many attractions that you must see and that you should include in your trip if you want to experience the incredibly enchanting atmosphere of the area.
On this page you can book the hotel of your choice, tours, as well as d ay trips.
The Bourtzi of Karystos
Bourtzi Castle (Fortress) is located on the coastal road of Karystos. It is a medieval monument built in 1350, with many loopholes and 24 patio doors. For its inaction, the Venetians used the marble pieces from a Roman Mausoleum, located in the center of the market of the city of Karystos.
Beaches
You can enjoy the beaches of Karystos since there are several. Start from them next to the city and continue west to Paximada and east to Bouros.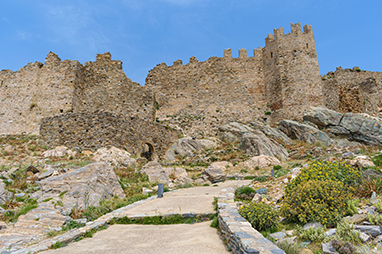 Castello Rosso
The ruins of this 11th century Byzantine fortress - later occupied by the Franks, Venetians and Ottomans - are located 4 km north of Karystos. The aqueduct behind the castle transported water from the mountain springs to Bourtzi of Karystos.
Dimosari Gorge
The gorge of Dimosaris is ideal for every nature lover with dozens of springs, waterfalls, ancient riparian forests, wildlife, constantly alternating, filling the gorge hiker with different images.
Book your Hotel in Karystos
Rent a car