Limassol
Visit the top attractions of Limassol
Limassol has many attractions that you must see and that you should include in your trip if you want to experience the incredibly enchanting atmosphere of the area.
On this page you can book the hotel of your choice, tours, as well as d ay trips.
In the medieval Castle
It is one of the most important surviving fortifications from the Frankish period. It was built in 1210 by the Order of St. John of Jerusalem as the seat of the island's highest military command, the Grande Commanderie.
Curium
Kourion was an important city-kingdom of antiquity. An amazing theater built in the 2nd century BC, while in the 2nd c. A.D. expanded and took its current form with a capacity of 3500 seats. Today it has been restored and used for performances.
Island Villas
Impressive is the image of the "Island Villas" in the Limassol Marina, the luxury villas and stand out for their unique design and location. These are the only villas in the Mediterranean located "on the sea".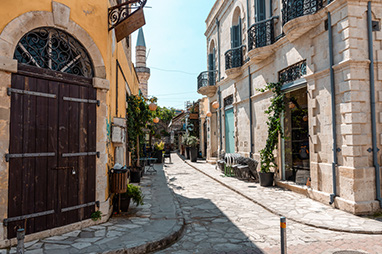 Old Town
The old town of Limassol is the heart of the city with the narrow streets that radiate outside the old fishing port and the historic center that starts from the streets next to the Old Port.
Book your Hotel in Limassol
Day tours
Limassol has many wonderful places around it that will tempt you to make at least one day trip or a cruise to discover them.
Outdoor activities in Limassol
Are you looking for an outdoor activity? See our alternative suggestions
Airport transport