Larnaca
Visit the top attractions of Larnaca
Larnaca has many attractions that you must see and that you should include in your trip if you want to experience the incredibly enchanting atmosphere of the area.
On this page you can book the hotel of your choice, tours, as well as d ay trips.
Arches
Impressive aqueduct of the Ottoman period, reconstruction, essentially of an older, possibly Roman. The aqueduct started from the banks of the river Tremithos and was about 15 km long, transporting water to Larnaca and was in use until 1939. From the aqueduct, a walking path begins that ends at the wetland of Alyki.
Larnaca Castle
Perhaps the most popular attraction in the city, it was built in the 14th century as a fortress. It took its current form during the Turkish occupation, in the 17th century. The Castle was built to protect the southern coast of Cyprus and later served as a prison.
Hala Sultan Tekke Mosque
One of the most important places of worship for Muslims - it is placed fourth in importance after Mecca, Medina and the Al-Aqsa Mosque in Jerusalem. The mosque was built in 1787 in honor of Umm Haram who was a relative of the Prophet Muhammad.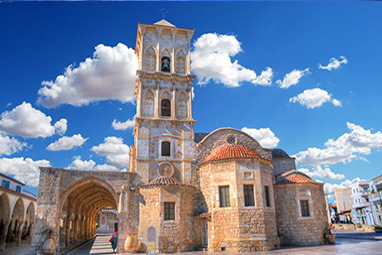 Holy Temple of Saint Lazarus
One of the most important religious monuments of Cyprus but also of Christianity. The church was built in the 9th century on the tomb of Lazarus - the man who was resurrected by Christ. It was built around 890 AD. by the Byzantine emperor Leo VI the Wise.
Lefkara village
Village famous for its lace, known as "Lefkaritika" and its silver crafts. Its name comes from the white color of the limestone rocks of the surrounding mountains. It has cobbled streets and picturesque architecture. It is divided into two administrative districts: Ano and Kato Lefkara.
Book your Hotel in Larnaca
Outdoor activities in Larnaca
Are you looking for an outdoor activity in Larnaca? See our alternative suggestions
Airport transport