Jamaica
Destinations World

Jamaica - Tailor Made
Visit the top attractions of Jamaica
Jamaica has many attractions that you must see and that you should include in your trip if you want to experience the incredibly enchanting atmosphere of the area.
On this page you can book the hotel of your choice, tours, as well as d ay trips.
Falmouth
Surrounded by sugar and cattle land, Falmouth is one of the best-preserved Georgian cities in the Caribbean. Once one of the top ports, the city offers excellent examples of 19th century Georgian architecture, including a dedicated reconstruction of the court.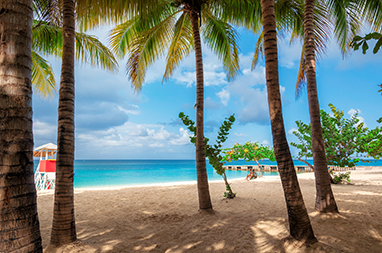 Negril Beach & the Negril Cliffs
Negril beach, also known as Seven Mile beach, is one of the most beautiful beaches of Jamaica. With the support of the famous Negril rocks, it is also one of the best beaches in the Caribbean. Hidden amidst palm trees is the place where the big coastal hotels and the small boutique ones are located.
Port Antonio
Between the mountains and a double port, Port Antonio exudes the relaxed charm of a fishing village. Popular things you can do in Port Antonio include hiking trails in the jungle, rafting in the Rio Grande, touring in Reach Falls and snorkeling and diving in the coral reefs.
Rafting in Martha Brae
Rafting the Martha Brae is one of the most popular things in Jamaica, especially for couples. Tour the bamboo raft river and enjoy some of the island's tropical landscapes. Your guide can help you buy souvenirs on the way or have fun singing reggae!
National Park Blue and the John Crow Mountains
In 2015, the impressive Blue and John Crow Mountains National Park was listed on UNESCO's world heritage list for its rich nature and cultural heritage. It was once a refuge for former slaves and the indigenous tribe Tainus. Here you can explore mountains with forests, waterfalls, lush rainforests and coffee plantations.
Dunn's River waterfalls
Dunn's River Falls is one of the top attractions of Ocho Rios. You can climb to the top of the waterfalls with the help of a guide and dive into the refreshing pools located at the base.
Book your Hotel in Jamaica
Αctivities in Jamaica
Looking for something different you can do in Jamaica? Book tickets for tourist attractions, museums, tours and much more.
Day tours
Jamaica has many wonderful places around it that will tempt you to make at least one day trip or a cruise to discover them.
Rent a car