Madrid
Destinations World

Madrid - Tailor made
Visit the top attractions of Madrid
Madrid has many attractions that you must see and that you should include in your trip if you want to experience the incredibly enchanting atmosphere of the area.
On this page you can book the hotel of your choice, tours, as well as d ay trips.
Museo del Prado
One of the most important galleries in the world, with the statue of the Spanish painter Velasquez dominating its entrance. On its three floors you will admire many works by El Greco, Velasquez, Goya, Rubens, Rembrandt, Botticelli, Raphael, and many other famous painters.
Palacio Real
Inspired by Versailles, the luxurious Baroque palace of 2,800 rooms was commissioned during the reign of Philip ED. The current king resides in the Palacio de la Zarzuela, while the old palaces are now used for formal events. Guests can only see 50 rooms.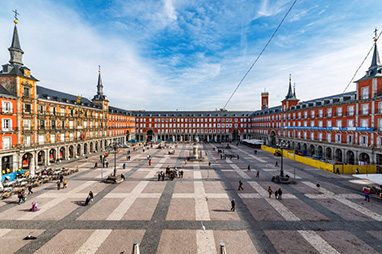 Plaza Mayor
With balconies, turrets, skylights and vertical roofs it creates a sense of scenery. The most impressive part of the galleries is the Casa de la Panaderia decorated with paintings. The square is full of outdoor cafes, while every Sunday it hosts the collectors' market.
Plaza Puerta del Sol
Point 0 of the Spanish road network. The square that really resembles the sun, since the roads develop from there radially like the rays of the sun. You will see the statue of the equestrian Charles III of Spain as well as the statue of the bear, a symbol of the city.
Moorish region
This is the oldest part of the city, where a part of the Arabian wall is preserved. Continuing you will see the Plaza de Espana, with the majestic statues of Don Quixote and Sancho Panza reflected in its lake, under the watchful eye of Cervantes.
Book your Hotel in Madrid
Αctivities in Madrid
Day tours
Madrid has many wonderful places around it that will tempt you to make at least one day trip or a cruise to discover them.
Outdoor activities in Madrid
Are you looking for an outdoor activity in Madrid? See our alternative suggestions
Airport transport