Cairo
Destinations World

Cairo - Tailor Made
Visit the top attractions of Cairo
Cairo has many attractions that you must see and that you should include in your trip if you want to experience the incredibly enchanting atmosphere of the area.
On this page you can book the hotel of your choice, tours, as well as d ay trips.
Abdeen Palace Museum
The nostalgic palace of Abdeen, a sample of European style, embracing spacious squares, large streets, palaces, buildings and bridges on the Nile, gardens with trees and rare palm trees.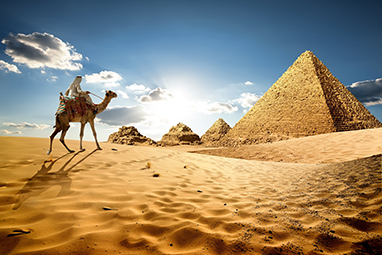 Giza Necropolis
One of the most famous sights. The last remaining one, of the Seven Wonders of the ancient world, the great pyramids of Giza are perhaps the most famous. These huge monuments have had an unsurpassed height for thousands of years. Still today, their construction they continue to surprise and fascinate us.
Khan el-Khalili
The area has appeared in many films and literary works, it has many examples of medieval Islamic architecture. The soft touch of handmade carpets will take your breath away. There are also areas for gold, copper and spices that are sold.
The Egyptian Museum
The Egyptian Museum is the oldest archaeological museum in the Middle East and houses the largest collection of Pharaonic antiquities in the world. Among the museum's unbeatable collection are the complete burials of Yuya and Thuya, Psusennes 1st and the treasures of Tanis.
Book your Hotel in Cairo
Αctivities in Cairo
Looking for something different you can do in Cairo? Book tickets for tourist attractions, museums, tours and much more.
Day tours
Cairo has many wonderful places around it that will tempt you to make at least one day trip or a cruise to discover them.
Outdoor activities in Cairo
Are you looking for an outdoor activity in Cairo? See our alternative suggestions